RTMC Astronomy Expo 2003
May 24-26, 2003, Big Bear, California - YMCA Camp Oakes
35th Annual RTMC Astronomy Expo
What a great weekend. I didn't think the event organizers were going to be able to top last year's event but they did. This year's theme was "Building Your Own Observatory." Great speakers, great vendors, and plenty of vendors offering dream equipment lining the paths through the woods.
I got in late Thursday afternoon from a business trip and we loaded up our van for the trip up to Big Bear. The weather was warm, but we had high level hazy cirrus clouds that I suspected (rightly as it turned out) would plague the weekend. I chose not to camp at the event because I was bringing my family, so we stayed at the Holiday Inn Big Bear Chateau. This was the nicest Holiday Inn that I have ever seen - Marble lobby and fireplaces in the rooms. A great restaurant is on premises too. Staying at the Chateau turned out to be a welcome relief from the dusty conditions at RTMC.
On Friday morning, the event started early at about 6:00 am, despite what the brochure said about starting the swap meet at 8:00 am. My family and I showed up at 9:00. The Boy Scouts served along with the Civil Air Patrol to direct traffic into the event. This went VERY smoothly. Shuttles back and forth between Camp Oakes and Big Bear were not operating this year, perhaps because of liability issues, but the parking was so well organized that I saw no problems.
OK. Now to the event. The vendors are arranged along the side of footpaths leading up to an upper telescope field. All of the major suppliers that you see in the back of Astronomy Magazine and Sky & Telescope Magazine were represented. And then some!
| | |
| --- | --- |
| The Upper Telescope Field on Friday, the 'slow' day | The Meade Tent |
The swap meet is the more fun than should be legally allowed! I followed "Tom & Terry's First Rule of RTMC," which states, "If You See It And You Want It, Buy It Immediately." This First Rule is kept in your mind when preparing for the trip while you are keeping "Tom & Terry's Second Rule of RTMC: You Can Not Bring Enough Cash to RTMC." If you walk by something you've been thinking about buying, it will be gone before you can turn around and change your mind. Absolutely everything related to amateur astronomy is available at RTMC. From eyepiece caps to precision mounts, from filters to prototype eyepieces, from a 36 inch reflector dobsonian (The Yard Scope) to a completely functional 3 in LONG refractor, complete with little eyepieces.
| | |
| --- | --- |
| Al Nagler tells AVAC group about the little boy who licked one of his best eyepieces | Al Nagler showing off the best eyepiece cases in the world |
I got some great deals on astronomy books I have wanted over the last year. I got a case for my 18 inch dob, a really cool "10X30 Little Mak" spotting scope, some software, and a new eyepiece. I figured I saved about 15%-20% on these items that I was going to purchase anyway. How often can you ask the eyepiece's designer detailed technical questions regarding the design of an eyepiece you've been thinking about? I got to speak with Al Nagler for 10-15 minutes about eyepiece designs and trade-offs between the 13 mm Nagler Type 6 and the 12 mm Nagler Type 4 regarding field flatness and contrast. He also gave me some tips on cleaning TeleVue eyepieces that included denatured alcohol and patience.
Lots of fun and innovations from the telescope maker's community. The award for the guy with the most gadgets connected to his scope had to go to "#3", an 8: dobsonian with every kind of pointing device and finder on it imaginable. My son thought it looked 'cool' so I got his picture in front of it. He told me he wants a telescope just like this when he gets bigger.
| | |
| --- | --- |
| Protecting his eyes from the dust, Matthew stands in front of a highly modified SkyQuest | Two refractor spotting scopes, 1 Telrad, 1 Celestron dot finder and a pair of binoculars. Not visible - Compass, digital watch, thermometer... |
Meade Telescopes once again was EXTREMELY generous with the door prizes. The top prize this year was a 16 inch Schmidt-Cassegrain with their Ultra-High Transmission Coatings! With everything else they had to give away, the value was way over $15K. Someone is planning an observatory right now!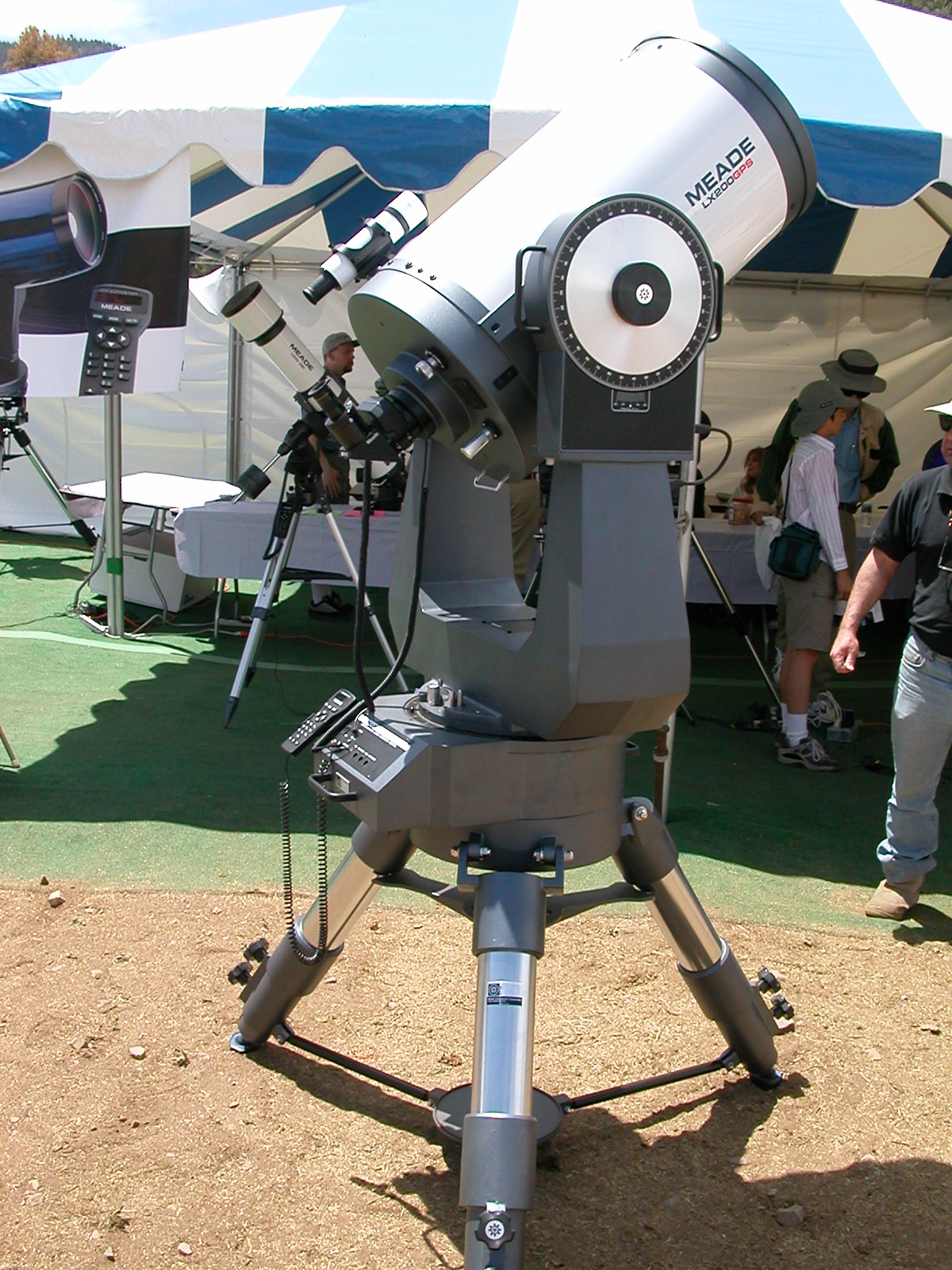 Meade's Display Tent - 16 inch Meade Schmidt-Cassegrain. (The one they were giving away was blue and had UHTC)
05/2003